Atlantic MotorHome are based in County Conwy, North Wales but have shipped Motorhome and Caravan Electronic equipment around the World from Norway to New Zealand. Most of the equipment we repair and supply can be fitted at our base in North Wales, sometimes free of charge.
If you need any work carried out but you live outside our working area then maybe a short break in beautiful North Wales is the answer. We can work on your Motorhome or Caravan at our premises while you enjoy your stay.
Ask about our arrangement with a local car hire company at £25 a day. Cars are all less than 6 months old and higher spec models with Air con, etc.
Alternatively there is the Number 27 bus which runs within 5 minutes of the workshop travelling between Colwyn Bay and Conwy : http://www.arrivabus.co.uk/serviceInformation.aspx?id=2540
Llandudno looking towards the Great Orme :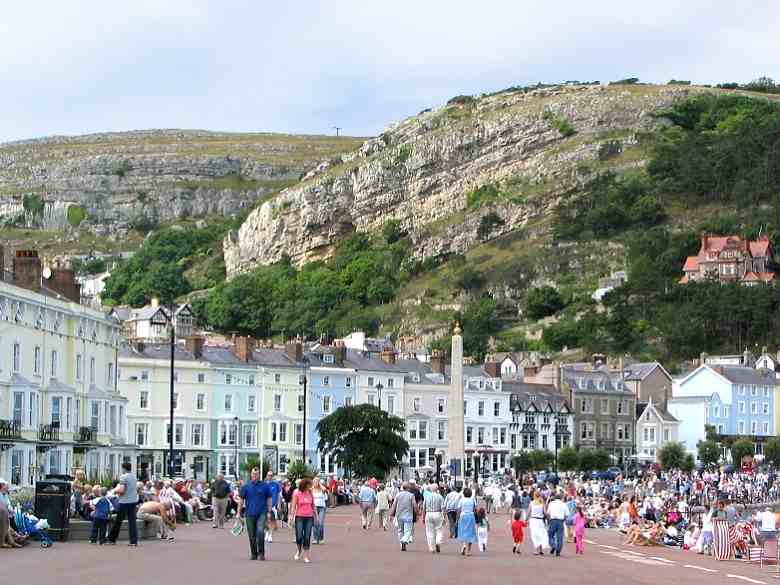 We can recommend 2 Touring sites, one close to Llandudno and the other at Betws Yn Rhos about 17 minutes from us.
The first is a small gently sloping site high on hills with spectacular views of the Little Orme and the sea. At £12 a night it has a electric hook-up and a small shower block. Access to it is via narrow roads and not for the faint hearted, but it is spectacularly beautiful. Apparently the Duck eggs at a nearby farm are delicious.
This same site has a separate annexe to the main house where they offer 'self contained' B&B where you only enter the main house should you require breakfast. This might be useful if we need your MH for a couple of days? See this link for more details: http://www.ukcampsite.co.uk/sites/details.asp?revid=6089
The second site is Peniarth Bach Farm Motorhome and Touring Caravan site where access is much easier and comes very highly recommended by Motorhome owners. At around £15 - £18 a night (a discount possible if you mention us) : http://www.peniarthbachfarm.co.uk/Pictures_of_Caravan_and_Camping_Field.html
This really is a lovely place to stay. Facilities match a 5 Star site we know of. Contact : 07545 572744
Roads around Betws Yn Rhos can be narrow but if you approach from Abergele Town the roads are good. We suggest you do not take what looks like a 'short cut' to/from us it will take twice as long and the roads are narrow.
Should you consider a full Motorhome Mechanical and Habitation service along with Electrical remedial work then you can easily spend a whole day, if not several days, being entertained in the Victorian town of Llandudno. The Great Orme has Bronze age Copper Mines, a Ski slope, Sky ride and Toboggan run. You don't even need to walk up as there is a Tram to the top, one of only two of it's kind in the UK.
Then of course there is the Theatre, beach and Pier. You can also take a bus ride out to Snowdon (obviously the bottom of the Mountain at Llanberris!!)
If that is not enough, Conwy walled Town and Castle is only a short distance away. There is a bus service, Number 27 about 5 minutes walk away from the workshop, that runs about every 30mins between Colwyn Bay and Conwy Town : http://www.arrivabus.co.uk/serviceInformation.aspx?id=2540
For nature lovers and children, Conwy RSPB is a real treat (The 27 Bus service runs within about 5 mins walk of it) see : http://www.rspb.org.uk/reserves/guide/c/conwy/
Anglesey is probably one of the best kept secrets, it has wonderful tourist beaches, Rosneiger being an amazing kite surfing paradise, yet nearby you will find historic Iron Age sites that are so unspoilt it feels like you are transported back in time.
Away from the normal Anglesey Tourist trail, you will find one of the most unspoilt areas in the UK. Yet nearby you will find RAF Valley, a very active airfield, where most of the RAF inventory can be seen taking off or landing. You might even see our Royality now that the Island is home to one of the Worlds most celebrated couples.
The picture below is of the South Stack Lighthouse in the 1890's. Little is different today, the view and coastline is staggering, full of wildlife. It won't surprise you to learn it is designated an Area of Outstanding Natural Beauty.
For more on South stack and Anglesey, visit : http://www.anglesey-today.com/south-stack-lighthouse.html
Conwy Castle:
Caernarvon is a lovely town, well worth a stop on the way back from Anglesey before your journey down the Llyn Penisula to see the seals and Abersoch (locally known as the Cheshire Riviera because of the many wealthy and famous from Cheshire with holiday homes there)
Caernarvon Castle :
Leave Abersoch, Pwllheli and the Llyn Peninsula and pay a vist to Portmeirion :
In the photo above on Portmeirion 'beach' you can just make out the boat berthed up against the jetty wall, if you go to the village you must go down to the river to see it!!
The picture below is the more traditional view of what I believe is the most unique and beautiful village in the World :
I took you all the way to Anglesey and didn't tell you about Chirk on the Eastern Welsh border. I have a real soft spot for Chirk.
So as you leave Portmeirion head towards Beddgelert, Snowdon, Blaenau Festiniog, Bala, Corwen, Llangollen then Chirk. Of course you won't be disappointed if you stop for a few days at each one of these along the way.
These are Chirk Castle Gates:
Now, may I ask you to go to Google, type in Chirk, then press Return, and then click on Images on the Google tool bar?
There is the Marina, the spectacular viaduct, the Castle, the Gates, the Sheep and in Chirk High Street is the Hand Hotel. Wonderful food. Chirk Castle also has lovely food.
There really are lots of good reasons why you should let Atlantic Service your Motorhome/Caravan in Conwy!!